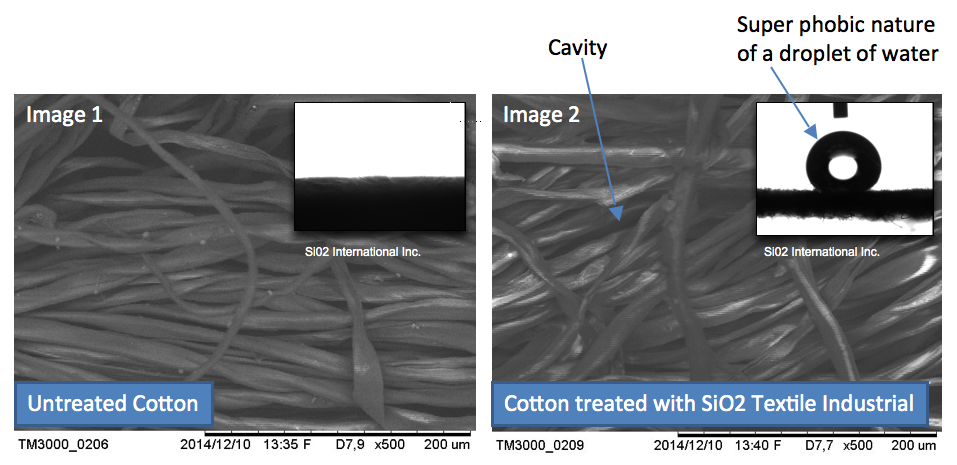 SiO2 Ultra Thin Coatings are undetectable as shown in image 2. Our SEM (Scanning Electron Microscope) indicates no difference between the two but a distinction is clearly indicated by the super phobic behaviour of the droplet of water. (inset in image 2).
Image 2 is cotton after an applied SIO2 Industrial Textile Coating. Notice the cavities between the fibers remain open to allow the human body to breath and water vapour to escape. SiO2 Technology allows fabrics to behave naturally and add the many characteristics inherent in our Ultra Thin Layering Technology.
Our safe, quartz glass coating completely encapsulates the individual fibers protecting the textile from abrasion, aqueous liquids, oils, solvents, bacteria, mold and mildew, dirt, staining etc. Our SiO2 glass coatings become flexible and will expand up to 200% making it ideal for exterior use and for products that need to breath like fabrics and stone. Once applied, the coating is undetectable and protects the surface for years in some instances.
SiO2 Ultra Thin Coatings are effective, durable and anti-microbial. This means no more adhesion of soil and long-lasting protection against adhesion of mould bacteria and considerable reduction of chemicals used for cleaning. In most instances, surfaces need only be cleaned with water to maintain a clean, chemical free environment.
Our coatings do not change the color or finish of your surface.
SiO2 Coatings are quick and easy to apply by spraying, wiping or dipping the article to be treated. No special equipment or vacuum chambers are needed. Our SiO2 Textile Industrial is utilized during the manufacturing process. It requires heat to cure. Protected surfaces become superhydrophobic and superoleophobic, and resistant to staining and abrasion. Because our glass layers will allow treated substrates to breath, application to stone (e.g., concrete, marble, limestone, travertine, granite) and wood is also possible.
Our invisible SiO2 Paper PROTECT performs better than any solvent or water-based product used in the paper industry today.
Water repellency for paper products is generally derived from solvent based coatings as the cellulose fiber doesn't react to solvents. Solvent coatings can be effective, but they can be toxic and can't be used for many paper products i.e. food containers. A safe alternative coating that can resist water absorption, is needed.
SiO2 International Inc. has found the answer. We've developed a superior water-based technology that is undetectable, will keep paper dry, safe to use and distortion free. Our invisible SiO2 Paper PROTECT performs better than any solvent or water-based product used for the paper industry today. Our coating can be used in food packaging, health care, cosmetic and many other industries that requires a safe alternative to older solvent based coatings.
Cobb Testing validates our claims.
Independently tested by a 3rd party lab.                  59.2 g eau/m²