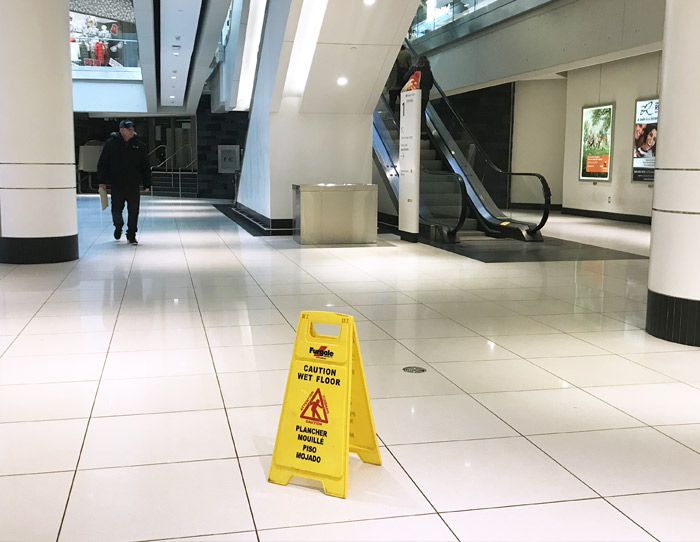 SiO2 Ultra Thin Coatings – Advanced Surface Protection. Office buildings, airports, hotels, condominiums, banks, hospitals, medical/dental facilities, schools/colleges, retail stores, warehouses, stadiums, gyms, the list is long. Virtually all commercial and public buildings depend on regular maintenance services for both their customers and employees.
Traffic Conditions of a Building
When traffic is introduced, dust, dirt, clay, grit and sand moves around which can abrade a floor surface. The erosive results are compounded when liquid binders, such as petroleum, grease, oil, animal fat and water, are introduced.
Hot Spots within a Building
Hot spots are specific areas of condensed traffic. Examples of these areas are focal points where traffic follows a natural path to a destination causing abrading and staining in that specific area. Hallways, checkouts in grocery and retail stores are considered hot spots. Lobbies and entrance ways, elevators, revolving doors and ticket counters are common areas where hot spots will occur.
Safe and easy to apply, SiO2 Products are water, abrasion and stain resistant (see Our Coatings for natural attributes found in many of our coatings). SiO2 Ultra Thin Coatings safeguard the value of an asset by extending its life and reducing maintenance and cleaning costs. SiO2 International's easy clean products offer an alternative to conventional protective coatings, are more effective and free of chemical, resins, adhesives or toxic substances. In most instances, surfaces need only be cleaned with water to maintain a clean, chemical free environment.
SiO2 Technology's inherent characteristics include the ability to control problem microbes safely with a sustainable, VOC free, molecular quartz glass coating. Our treatments will lessen the need for chemical cleaners while offering an extra level of protection never before available in the North American market.
Other examples of maintenance surface usage:
washroom facilities
stainless steel work & food prep tables
rubber, stainless & polymer conveyors systems
refrigeration seal gaskets
shopping carts
flooring in public & food prep areas
ovens, heat tables & mixing vats
exhaust systems
hospital emergency units
airports
stadiums
coffee shops